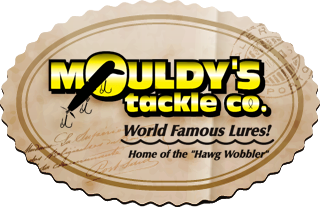 World Famous Musky Lures For Over 40 Years
In the early 1970's Terry Moulton began turning out wooden musky lures on a small lathe in the back of his garage. At first they were just for himself and a few friends.
In 1976, the Bi-Centennial year of our country, Moulton figured that America needed a Bi-Centennial musky lure. So he came out with the "Yankee Doodle Dandy", a lure with a propeller on both ends, a blue head with white spots, a red back, and white belly. It was real patriotic, but Moulton claims he only sold about sixty of these. However, real fishermen don't give up easily and in 1978 Terry Moulton introduced a lure called the Hawg Wobbler®. The Hawg Wobbler® was an immediate success. Word of this amazing new lure spread rapidly. Reports of big muskies and giant largemouth bass were coming from everywhere. Ordinary fishermen, professional fishing guides, and tournament participants were amazed at the ability of this lure to produce large muskies and giant largemouth bass.
"Fame comes in a moment, but greatness comes through longevity."
The Hawg Wobbler® is over 40 years old and still producing big muskies and huge largemouth bass.
The Hawg Wobbler® now comes in four sizes and 12 fish catching colors: